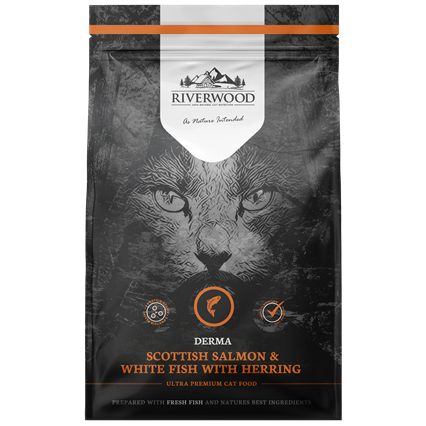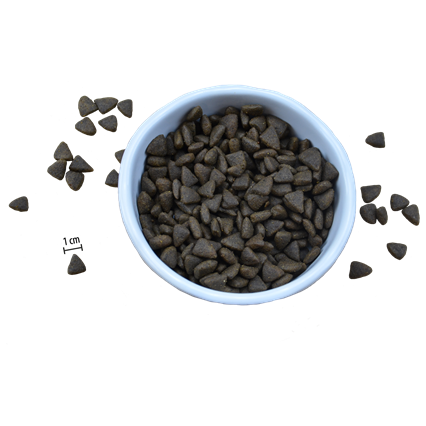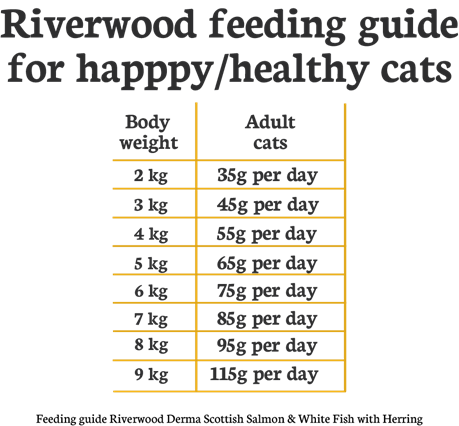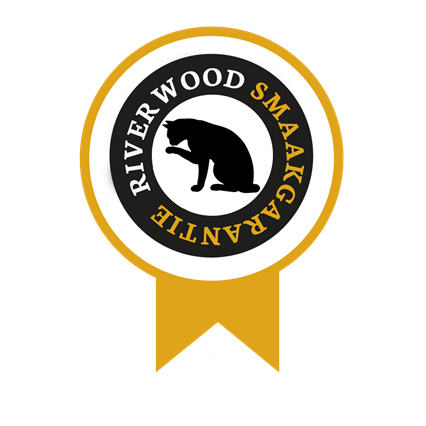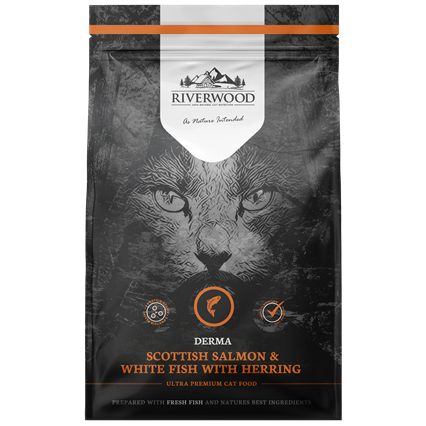 Riverwood Derma
Scottish Salmon & Whitefish with Herring
Riverwood Derma cat food has the perfect recipe for cats with skin and coat problems (itching, red skin, hair loss, dull coat). Also very suitable for adult cats with a long or medium coat.
Natural grain-free and gluten-free cat food based on a unique combination of three types of fish, a mix of fresh vegetables and fruit, supplemented with a rich blend of powerful herbs. Particularly suitable for cats that could use some extra support for skin and coat.
Bereid met Vers Vlees
Grain and Gluten Free
Pay afterwards
Free shipment above 59 €
Composition
&nbsp
Dehydrated Scottish salmon (20%), yellow peas (17%), fresh Scottish salmon meat (14%), whitefish dehydrated (12%), yellow pea starch (12%), poultry fat (preserved with tocopherols, 10%), herring ( 7%), dried apple pulp (4%), hydrolysed chicken liver (2%), evening primrose oil (1%), mannan oligosaccharides (170 mg / kg), fructooligosaccharides (110 mg / kg), psyllium extract (50 mg / kg ), parsley extract (50mg / kg), sage extract (50mg / kg), rosemary extract (50mg / kg), citrus extract (50mg / kg), sea buckthorn extract (50mg / kg).

NUTRITIONAL ADDITIONS PER KG:
Vitamin A (3a672a) 22,000 IU, Vitamin D3 (E671) 850 IU, Vitamin E (3a700) 600 mg, Vitamin C (3a312) 250 mg, Taurine (3a370) 2300 mg, Choline chloride (3a890) 2100 mg, L-carnitine ( 3a910) 60 mg, Niacinamide (3a315) 40 mg, Biotin (3a880) 1.6 mg, Zinc chelate of amino acids, hydrated (3b606) 130 mg, Iron (II) sulfate monohydrate (E1) 45 mg, Manganese (II) oxide (E5) 50 mg, Potassium iodide (3b201) 3.5 mg, Copper (II) chelate of amino acids, hydrated (E4) 10 mg, Organic form of selenium produced by Saccharomyces cerevisiae CNCM I-3060 (3b8.10) 0, 2 mg, L-methionine (3c305) 12 mg, L-arginine (3c3.6.1) 10 mg, L-lysine (3.2.3.) 9 mg.

ANALYTICAL COMPONENTS:
Crude protein 36.0%, Fat content 15.0%, Moisture content 10.0%, Crude ash 8.0%, Crude fiber 2.0%, Calcium 0.9%, Phosphorus 0.8%, Sodium 0.6% Magnesium 0.07%.

METABOLIZABLE ENERGY: 3,800 kcal / kg.
Description:
Riverwood has developed a particularly coat-friendly food, namely Riverwood Derma, especially for cats with a medium or long coat. In order to optimally support these often semi-long or long-haired cats with their skin and coat, we have consciously chosen the protein sources Scottish salmon, whitefish and herring, with a high content of omega-3 fatty acids. After all, your cat's skin and coat reflect its health.
Lots of high-quality proteins
In Riverwood Derma we use the right dose of high-quality proteins that support a healthy coat, so you can prevent dry skin and dull coat of your cat.
Supports the health of the skin
Cats with a medium or longer coat are more likely to have inflammation on the skin. To prevent this, we have consciously chosen protein sources with a high content of EPA and DHA, which reduce the production of cytokines (proteins and peptides) that are involved with inflammations.
For a shiny and healthy coat
To keep the coat of these cats optimal, Riverwood Derma contains Evening Primrose Oil, which contains one of the highest concentrations of the medicinal fatty acid GLAIn. The nutrients in this oil are essential for cell structure and improvement of the coat and elasticity of the skin.
The benefits of

Scottish Salmon & Whitefish with Herring

at a glance
100% natural

Grain & glutenfree

Prepared with fresh meat

With evening primerose oil

Meat as first ingredient
Artisly prepared