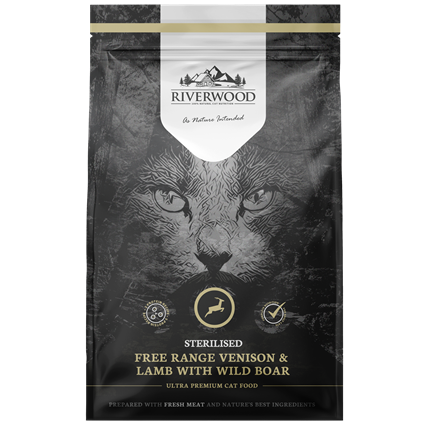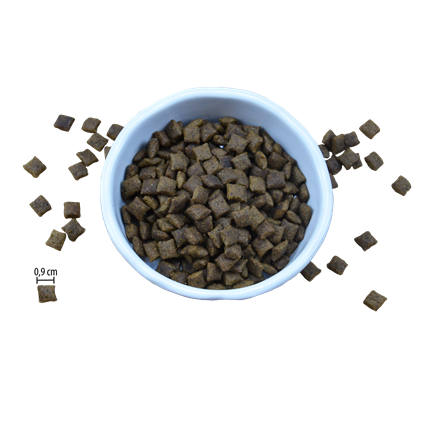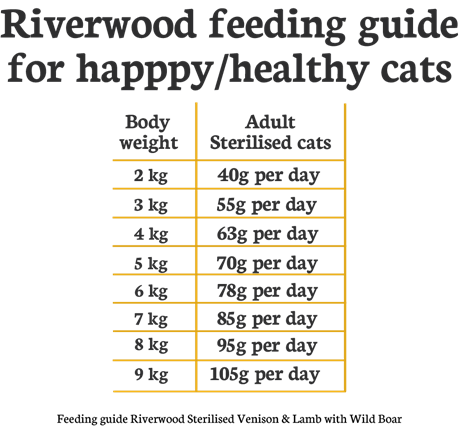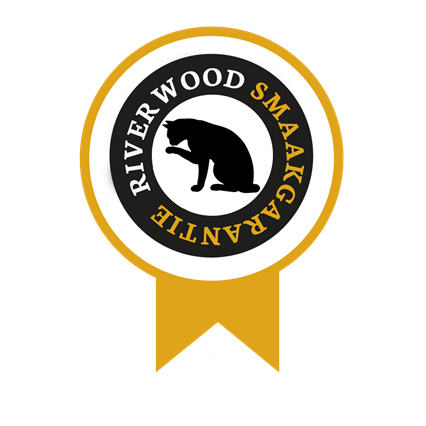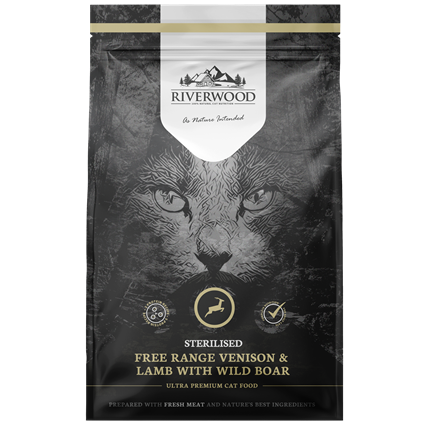 Riverwood Sterilized
Venison & Lamb with Wild Boar
Riverwood Sterilized Cat Food has been specially developed for sterilized / neutered cats, which helps to lower the Ph value in the urine and contributes to a healthy weight maintenance.
Natural grain-free and gluten-free cat food based on a unique combination of three types of 'free-range' meat, a mix of fresh vegetables and fruit, supplemented with a rich blend of powerful herbs, and specially developed for the sterilized or neutered cat.
Prepared with Fresh Meat
Grain and Gluten free
Composition
&nbsp
Venison dehydrated (23%), fresh lamb (14%), wild boar dehydrated (14%), yellow peas (14%), yellow pea starch (14%), poultry fat (preserved with tocopherols, 12%), dried apple pulp ( 5%), hydrolysed chicken liver (2%), evening primrose oil (1%), mannan oligosaccharides (170 mg / kg), fructooligosaccharides (110 mg / kg), psyllium extract (50 mg / kg), parsley extract (50 mg / kg), sage extract (50 mg / kg), rosemary extract (50 mg / kg), citrus extract (50 mg / kg), sea buckthorn extract (50 mg / kg).

NUTRITIONAL ADDITIONS PER KG:
Vitamin A (3a672a) 22,000 IU, Vitamin D3 (E671) 850 IU, Vitamin E (3a700) 600 mg, Vitamin C (3a312) 250 mg, Taurine (3a370) 2300 mg, Choline chloride (3a890) 2100 mg, L-carnitine ( 3a910) 60 mg, Niacinamide (3a315) 40 mg, Biotin (3a880) 1.6 mg, Zinc chelate of amino acids, hydrated (3b606) 130 mg, Iron (II) sulfate monohydrate (E1) 45 mg, Manganese (II) oxide (E5) 50 mg, Potassium iodide (3b201) 3.5 mg, Copper (II) chelate of amino acids, hydrated (E4) 10 mg, Organic form of selenium produced by Saccharomyces cerevisiae CNCM I-3060 (3b8.10) 0, 2 mg, L-methionine (3c305) 12 mg, L-arginine (3c3.6.1) 10 mg, L-lysine (3.2.3.) 9 mg.

ANALYTICAL COMPONENTS:
Crude protein 38.0%, Fat content 14.0%, Moisture content 10.0%, Crude ash 7.6%, Crude fiber 3.8%, Calcium 0.7%, Phosphorus 0.5%, Sodium 0.9% , Magnesium 0.06%.

METABOLIZABLE ENERGY: 3,680 kcal / kg.
Description:
The metabolism of sterilized or neutered cat changes, because its reproductive organs are removed, so there is a greatly increased risk of overweight if they continue to receive a regular diet. Riverwood has developed a food especially for this group of cats with balanced amounts of high-quality proteins and fats, so that this food perfectly matches the energy needs of your cat.
Prevents obesity
To prevent obesity and to ensure that all sterilized cats maintain a healthy weight, Riverwood Sterilized contains the natural plant-based dietary fiber psyllium, which ensures that your cat is saturated faster. In addition, psyllium has a positive effect on the digestion and psyllium cleans the digestive system.
High in proteins, low in fat
It is important that your cat remains in good condition, with a balanced amount of proteins and a low fat content, to maintain lean body mass, Riverwood Sterilized maintains muscle mass without your cat getting too much fat.
For a healthy Blatter
To reduce the risk of calcification and stone formation in the bladder, Riverwood Sterilized vitamins A, K and C have been added.
The benefits of

Venison & Lamb with Wild Boar

at a glance
Grain & glutenfree

100% natural

Prepared with fresh meat

Meat as first ingredient
Artisly prepared

With evening primerose oil