ADVANTAGES OF HYPOALLERGENIC FOOD
Suitable as elimination diet
With an elimination diet you exclude whether or not a pet reacts allergic to certain protein sources in the food.

less chance of allergies
Does your pet suffer from a dull coat, itching or skin and coat problems? His food could be the cause of this.

Ideal for skin problems
An allergic reaction to a certain ingredient in the diet releases histamine, which causes itching or irritation. Hypoallergenic food reduces the risk of an allergic reaction.

What makes riverwood unique?
At Riverwood we believe in the power of nature. All food is therefore rich in natural ingredients. In addition, all animal components come from free-range animals.
Riverwood nutrition owes its Ultra Premium name to the high-quality recipes. All chunks are rich in three different protein sources. This means that all chunks contain three different types of meat and / or fish. As a result, they contain many different vitamins and minerals and your pet will get exactly what he / she needs.
Natural ingredients
Rich in three different protein sources
Meat from free range animals
Hypoallergenic
Ultra premium quality
Delicious taste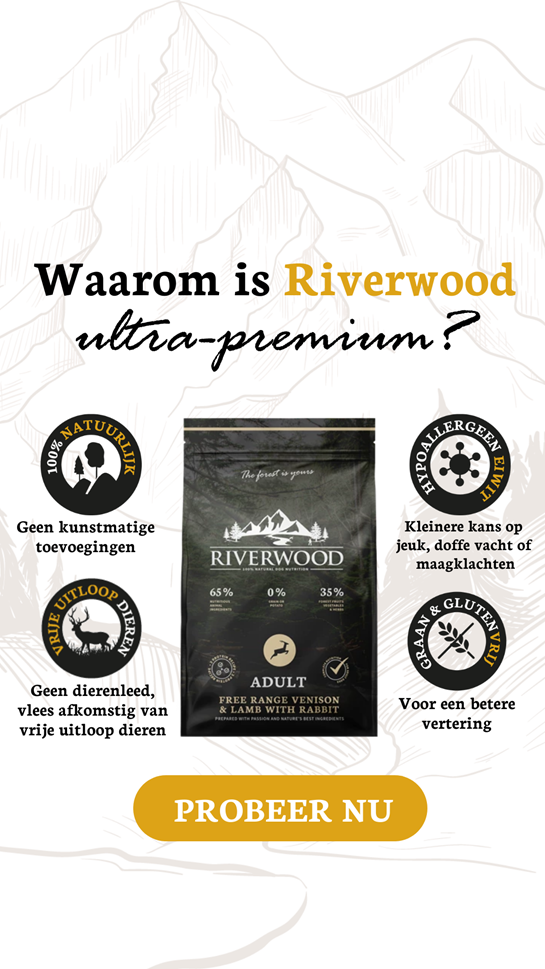 Would you like to
try

Riverwood?

 

Lots of dogs already enjoy Riverwood every day. Do you also want to let your dog feast on our delicious kibble? Fill in the questions and find out which variant suits your dog best. 

 
THE VARIANTS
Riverwood is available in six delicious varieties. In addition to food for adult dogs, there is also a puppy variant and a junior variant of large dog breeds.
Do you have any questions left?
Not sure which variant of Riverwood is best for your dog? Or do you have other questions? Our nutrition experts are ready to answer all your questions.